Regular price
$ 14.99 USD
Regular price
Sale price
$ 14.99 USD
Unit price
per
Sale
Sold out
Do you feel like your symptoms are a jigsaw puzzle with pieces that don't fit together?
Get ahead of your symptoms and mental health with the Physical Symptoms & Mental Health Tracker planner and journal! This tool will help you identify patterns and triggers, allowing you to take control of your health. Tailored for 3 months of tracking, this planner contains overview pages to show your doctor or therapist patterns that may be causing flare-ups or attacks.
Sold Out? Get it on Amazon.

What can you track?
symptoms

weekly goals & to-do's

daily symptom check sheet, including:

tolerability levels: tolerable, mild, severe and in-between

symptom start/end, location, onset, notes/triggers

pain types: achy, constant, sharp, stabbing, etc.

medications taken

check-in with your mental health fill-in sheet, including:

checklist of tasks accomplished

tracking how you feel that day

fill-in with one word how you feel that day

blank space for journaling each day

tracking pages worksheets, including:

symptoms at a glance & trackers pages: collect data from all the daily tracking pages and fill out the dot trackers, use a color pen to help see patterns visually

blood pressure tracking pages and a couple pages to track your own

medical information worksheets: track your doctors, diagnostics, medications, and labs

blank lined pages for notes
Conquer the overwhelm of chronic illness with our tracking planner. From medical appointments and medications to doctor's notes and symptom tracking, this powerful tool will make managing your health easier than ever. Get organized and gain control of your health journey with this comprehensive solution created by a fellow chronic illness warrior. Get back on track today with the ultimate tracking planner – peace of mind is just around the corner.

This tracking planner is data and data is key when looking for answers. I know, I've lived with chronic illness for many years and have experienced medical gaslighting all too often. I developed this planner after experiencing a deep depression when I lost my grandmother and close cousin within four months of each other in 2021. Add to that, having no health insurance, no specialists due to affordability, no medications, and no therapist. I know how my mind works, I knew I needed a project to keep my thoughts occupied. Over the span of about eight weeks, I created the daily and check-in pages of this journal to help me get through each day. I was able to find my way out of the deepest part of my depression thanks to these pages. I spent a lot of time in bed, sad, hurting physically, and absolutely depressed...is that how you feel today? You're not alone. You can read more about my story developing this tracking planner inside the pages of this book. ~Erica Carrasco aka Achy Smile
_____________________

This Physical Symptoms & Mental Health Tracker planner and journal is the perfect tool to help you stay on top of your whole health! With tracking sheets for physical symptoms and mental health, it's easy to identify triggers and monitor your progress over time. Newly diagnosed patients can use the tracker to gain insight into their condition, while those with changes in symptoms can keep a close watch on their health. Get your Physical Symptoms & Mental Health Tracker now and start keeping track of your whole health with ease!

A few notes:
Use pencils, colored pencils, ballpoint pens, and gel pens only. The paper weight is not suitable for markers and permanent markers of any size.

Highlighters may bleed, please test before using. The highlighters we tested did not bleed, but we cannot speak for all highlighters.
Author: Carrasco, Erica Nicole
Binding: Paperback
Number Of Pages: 240
Release Date: 04-10-2023
Languages: English
Cover Art: Watercolor clouds in purples, oranges, and yellows
Share
View full details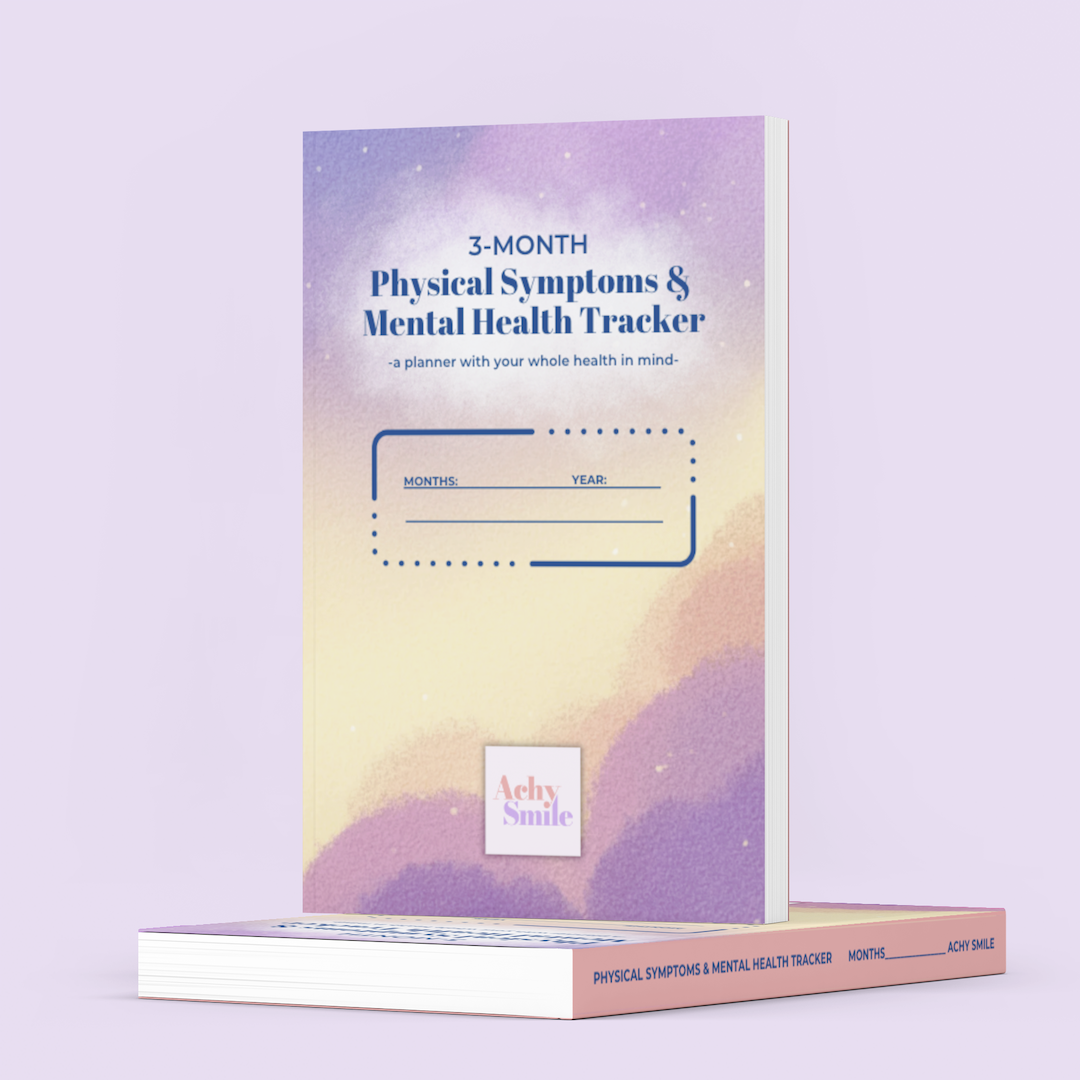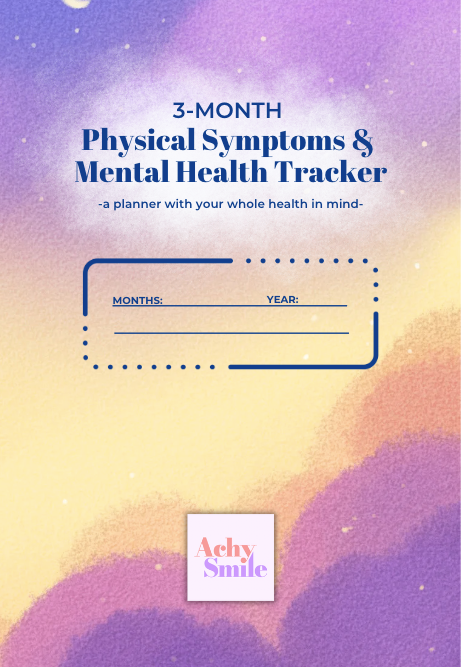 SHIPPING & FREE GIVEAWAYS

Due to increasing shipping costs, we no longer offer free shipping with most items. During Migraine and Headache Awareness Month in June, we give away FREE #ShadesForMigraine purple sunglasses to participate in their June 21st photo contest for all orders utilizing our Free Shipping and First Class Package shipping and above. Visit www.shadesformigraine.org for more details about their contest.

T-SHIRT ORDER NOTICE

There is currently a worldwide t-shirt shortage on almost all brands. Your t-shirt brand will vary from what is listed on the item description above. T-shirts will be either Gildan Softstyle, Bella + Canvas, Next Level, or a similar premium t-shirt brand using ring-spun cottons, 100% polyester, and cotton/polyester blends. We do not use heavy cotton materials unless requested. We do offer custom orders, contact us for more information.

AMAZON AFFILIATE

Erica Carrasco is a participant in the Amazon Services LLC Associates Program, an affiliate advertising program designed to provide a means for sites to earn advertising fees by advertising and linking to https://achysmile.shop.

DISABLED SMALL BUSINESS

Achy Smile Shop is a small, woman-owned business operated by Erica Nicole Carrasco. Achy Smile started as a chronic migraine blog written by Erica slowly incorporating awareness t-shirts and later, accessories. Products are now sold world wide.