Regular price
$ 12.99 USD
Regular price
$ 16.99 USD
Sale price
$ 12.99 USD
Unit price
per
Sale
Sold out
Brand: PureWine To Your Health
Color: Silver
Features:
ENJOY WINE AGAIN – Only PureWine alleviates ALL of the most common side effects from drinking wine: Headaches, Stuffy Nose, Skin Flush, Next-Day Hangovers and Upset Stomach.
THE PUREWINE ADVANTAGE - No other wine purifier filters the preservatives that trigger those unwanted wine allergies and sensitivities. The Wand purifies ALL red, white, and sparkling wines while enhancing the wine's natural flavor, aroma, and color.
CONVENIENT, PER-GLASS - Easy to use, portable, fits in purse or pocket. Disposable, one-time use, no messy cleanup needed. Perfect for social gatherings, celebrations and holidays. Great for gifting and sharing with friends. Never lose track of your glass again with NEW twist-off wine charms. Purifies and aerates a glass of wine in as little as 3 minutes.
NO MORE WASTED WINE - Imagine no longer having to throw away opened bottles of wine! The Wand restores open, oxidized wine to its natural taste using the Patented PureWine Purification technology.
SAFE AND EFFECTIVE– Does not add any harsh chemicals to your wine. PureWine Purification is proven safe and effective in independent tests. FDA compliant and BPA-Free. 100% Made in the USA
Binding: Kitchen
model number: 8541916599
Part Number: VINO3H
Details: Pure Wine: The Wand is the first product that removes BOTH the histamines and sulfites that cause allergic reactions from wine. It is portable, convenient, and purifies a 6 oz glass of wine. With intermittent gentle stirring over 3 minutes, it will remove over 50% of the histamines and sulfites from the wine. After 8 minutes, as much as 95% of the histamines and sulfites can be removed. Don't worry, you can leave The Wand in your glass as long as you would like. The longer you keep it in, the more it will purify your wine. The Wand is single-use and can be easily disposed of. More than 95% of the tannins, phenolics, and antioxidants are maintained in the wines so "all the natural good things" are still there. All testing was done by a leading independent wine testing lab. The Wand works on all red, white, and rosé wines, but the stirring action may cause sparkling wines to lose their effervescence more quickly. The Wand comes with four different wine charms that can be easily twisted off the handle and attached to the rim or stem of your glass. You will never lose track of your wine glass again, hurray! Histamines and sulfites are often the sources of bitterness and noxious odors in some wines. The Wand purifies the wine so the natural flavors and aromas of wine will be noticeably enhanced, thus making the wine taste "smoother", "more rounded" and "less bitter". Taste-testing studies were performed by a leading sommelier education program. Not only are your wine headaches eliminated, but the wine can be even more enjoyable! Wine purification really brings out the best in wine! The Phoenix purification technology in all PureWine products selectively removes oxidized components in wine that causes bitter tastes to develop when the wine has been exposed to air too long. You will no longer need to dispose of wine that has developed that old wine bitter taste.
EAN: 0019962797330
Package Dimensions: 6.4 x 2.0 x 1.3 inches
Share
View full details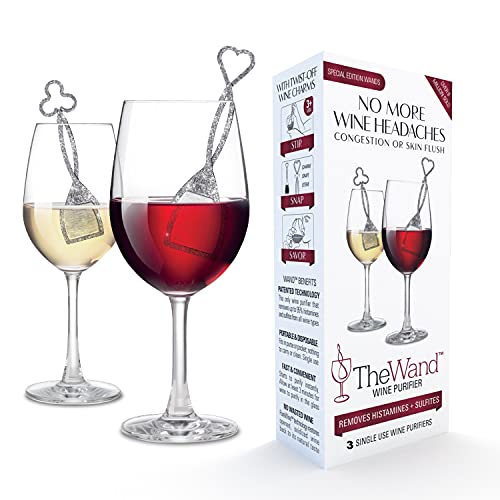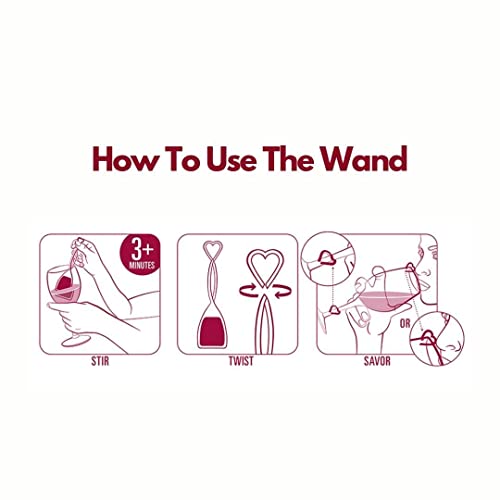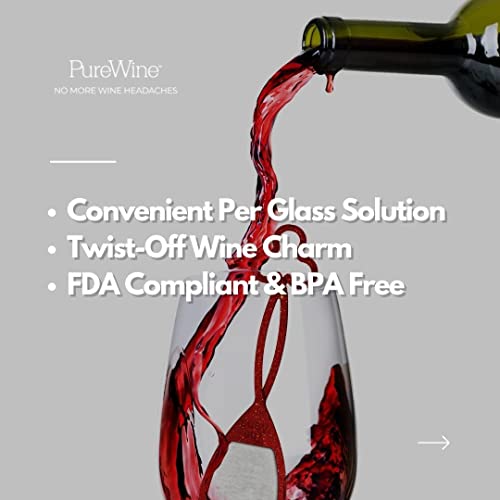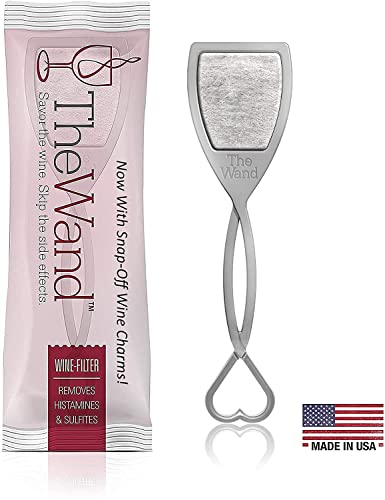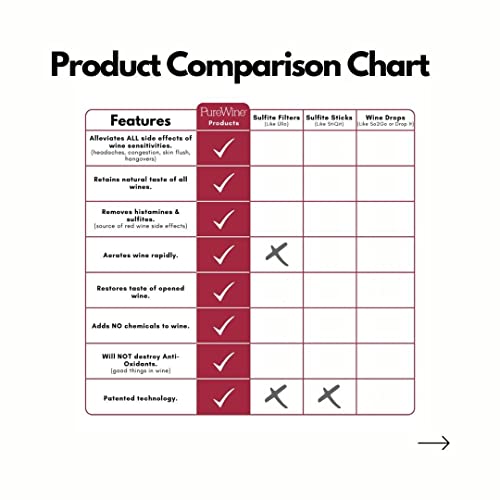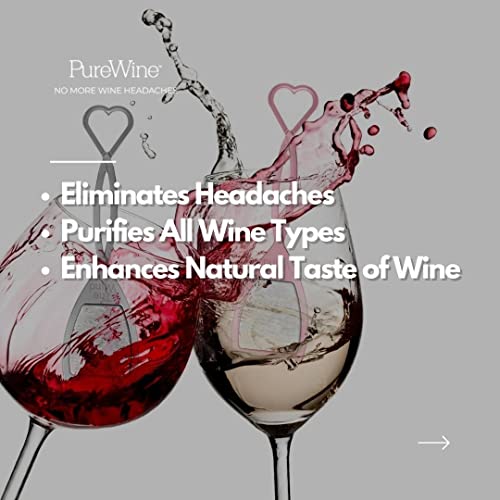 SHIPPING & FREE GIVEAWAYS

Due to increasing shipping costs, we no longer offer free shipping with most items. During Migraine and Headache Awareness Month in June, we give away FREE #ShadesForMigraine purple sunglasses to participate in their June 21st photo contest for all orders utilizing our Free Shipping and First Class Package shipping and above. Visit www.shadesformigraine.org for more details about their contest.

T-SHIRT ORDER NOTICE

There is currently a worldwide t-shirt shortage on almost all brands. Your t-shirt brand will vary from what is listed on the item description above. T-shirts will be either Gildan Softstyle, Bella + Canvas, Next Level, or a similar premium t-shirt brand using ring-spun cottons, 100% polyester, and cotton/polyester blends. We do not use heavy cotton materials unless requested. We do offer custom orders, contact us for more information.

AMAZON AFFILIATE

Erica Carrasco is a participant in the Amazon Services LLC Associates Program, an affiliate advertising program designed to provide a means for sites to earn advertising fees by advertising and linking to https://achysmile.shop.

DISABLED SMALL BUSINESS

Achy Smile Shop is a small, woman-owned business operated by Erica Nicole Carrasco. Achy Smile started as a chronic migraine blog written by Erica slowly incorporating awareness t-shirts and later, accessories. Products are now sold world wide.